If you require CD versions of any of our recordings, please request them using the form on our 'Contact Us' page. We do not charge for this, but donations are welcome.
1157 God has Provided (John 14:25-27, James 4:6-10)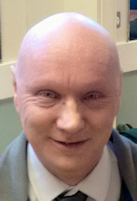 David Brooking, 6th October 2019
Part of the
Pastoral Series
series, preached at a
Sunday Morning
service
We are living in 'Project Fear' but God has other ideas.
About David Brooking:
Itinerate Preacher from North Yorkshire
John 14:25-27
25These things have I spoken unto you, being yet present with you. 26But the Comforter, which is the Holy Ghost, whom the Father will send in my name, he shall teach you all things, and bring all things to your remembrance, whatsoever I have said unto you. 27Peace I leave with you, my peace I give unto you: not as the world giveth, give I unto you. Let not your heart be troubled, neither let it be afraid. (KJV)
James 4:6-10
6But he giveth more grace. Wherefore he saith, God resisteth the proud, but giveth grace unto the humble. 7Submit yourselves therefore to God. Resist the devil, and he will flee from you. 8Draw nigh to God, and he will draw nigh to you. Cleanse your hands, ye sinners; and purify your hearts, ye double minded. 9Be afflicted, and mourn, and weep: let your laughter be turned to mourning, and your joy to heaviness. 10Humble yourselves in the sight of the Lord, and he shall lift you up. (KJV)