If you require CD versions of any of our recordings, please request them using the form on our 'Contact Us' page. We do not charge for this, but donations are welcome.
1165 Soldiers of Christ Arise (2 Timothy 2:1-4)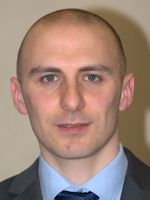 Greg Harris, 1st December 2019
Part of the
General
series, preached at a
Sunday Morning
service
Apologies - The reading of 2 Timothy 2 verses 1-4 is not on the recording.
Note - This sermon has a Powerpoint file attached which contains 7 slides.
The use of the slides starts at the beginning of the sermon.
How to use the Powerpoint file.
Just above where you click to listen to the sermon is a folder. Click on this and when the file has loaded at bottom of screen, click on the file and this will display the first slide. You can then click next slide when required.
The sermon can be understood without the Powerpoint, but it is helpful.
About Greg Harris:
Greg was brought up as a Catholic but did not continue as he grew up. He came to faith a few years ago and is fervant for the gospel. He has enrolled in Bible College.
2 Timothy 2:1-4
1Thou therefore, my son, be strong in the grace that is in Christ Jesus. 2And the things that thou hast heard of me among many witnesses, the same commit thou to faithful men, who shall be able to teach others also. 3Thou therefore endure hardness, as a good soldier of Jesus Christ. 4No man that warreth entangleth himself with the affairs of this life; that he may please him who hath chosen him to be a soldier. (KJV)