If you require CD versions of any of our recordings, please request them using the form on our 'Contact Us' page. We do not charge for this, but donations are welcome.
1162 Filthy Garments to Robes of Righteousness (Zechariah 3:1-2)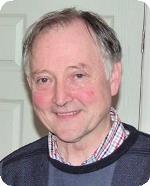 Geof Marshall, 10th November 2019
Part of the
Salvation
series, preached at a
Sunday Morning
service
About Geof Marshall:
Geof was a professional classical musician and married to Jenny, also a musician who became a Christian first. Geof resisted Christianity for many years but through the persitant prayers of his wife eventually came to faith and has ministered since as a preacher and pastor.
Zechariah 3:1-2
1And he shewed me Joshua the high priest standing before the angel of the LORD, and Satan standing at his right hand to resist him. 2And the LORD said unto Satan, The LORD rebuke thee, O Satan; even the LORD that hath chosen Jerusalem rebuke thee: is not this a brand plucked out of the fire? (KJV)