A Personal Testimony
from a Liverpool Supporter who was Saved from the Crowd at Hillsborough
589 I Shouted Out (1 Samuel 22:1-23, Psalm 116:1-19)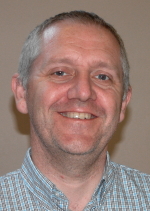 Billy Ainscough, 11th May 2008
Part of the
Testimonies
series, preached at a
Sunday Morning
service
A personal testimony from Hillsborough
About Billy Ainscough:
A Liverpool Scouser and schoolteacher with a remarkable story
1 Samuel 22:1-23
1David therefore departed thence, and escaped to the cave Adullam: and when his brethren and all his father's house heard it, they went down thither to him. 2And every one that was in distress, and every one that was in debt, and every one that was discontented, gathered themselves unto him; and he became a captain over them: and there were with him about four hundred men. 3And David went thence to Mizpeh of Moab: and he said unto the king of Moab, Let my father and my mother, I pray thee, come forth, and be with you, till I know what God will do for me. 4And he brought them before the king of Moab: and they dwelt with him all the while that David was in the hold. 5And the prophet Gad said unto David, Abide not in the hold; depart, and get thee into the land of Judah. Then David departed, and came into the forest of Hareth. 6When Saul heard that David was discovered, and the men that were with him, (now Saul abode in Gibeah under a tree in Ramah, having his spear in his hand, and all his servants were standing about him;) 7Then Saul said unto his servants that stood about him, Hear now, ye Benjamites; will the son of Jesse give every one of you fields and vineyards, and make you all captains of thousands, and captains of hundreds; 8That all of you have conspired against me, and there is none that sheweth me that my son hath made a league with the son of Jesse, and there is none of you that is sorry for me, or sheweth unto me that my son hath stirred up my servant against me, to lie in wait, as at this day? 9Then answered Doeg the Edomite, which was set over the servants of Saul, and said, I saw the son of Jesse coming to Nob, to Ahimelech the son of Ahitub. 10And he inquired of the LORD for him, and gave him victuals, and gave him the sword of Goliath the Philistine. 11Then the king sent to call Ahimelech the priest, the son of Ahitub, and all his father's house, the priests that were in Nob: and they came all of them to the king. 12And Saul said, Hear now, thou son of Ahitub. And he answered, Here I am, my lord. 13And Saul said unto him, Why have ye conspired against me, thou and the son of Jesse, in that thou hast given him bread, and a sword, and hast inquired of God for him, that he should rise against me, to lie in wait, as at this day? 14Then Ahimelech answered the king, and said, And who is so faithful among all thy servants as David, which is the king's son in law, and goeth at thy bidding, and is honourable in thine house? 15Did I then begin to inquire of God for him? be it far from me: let not the king impute any thing un to his servant, nor to all the house of my father: for thy servant knew nothing of all this, less or more. 16And the king said, Thou shalt surely die, Ahimelech, thou, and all thy father's house. 17And the king said unto the footmen that stood about him, Turn, and slay the priests of the LORD; because their hand also is with David, and because they knew when he fled, and did not shew it to me. But the servants of the king would not put forth their hand to fall upon the priests of the LORD. 18And the king said to Doeg, Turn thou, and fall upon the priests. And Doeg the Edomite turned, and he fell upon the priests, and slew on that day fourscore and five persons that did wear a linen ephod. 19And Nob, the city of the priests, smote he with the edge of the sword, both men and women, children and sucklings, and oxen, and asses, and sheep, with the edge of the sword. 20And one of the sons of Ahimelech the son of Ahitub, named Abiathar, escaped, and fled after David. 21And Abiathar shewed David that Saul had slain the LORD's priests. 22And David said unto Abiathar, I knew it that day, when Doeg the Edomite was there, that he would surely tell Saul: I have occasioned the death of all the persons of thy father's house. 23Abide thou with me, fear not: for he that seeketh my life seeketh thy life: but with me thou shalt be in safeguard. (KJV)
Psalm 116:1-19
1I love the LORD, because he hath heard my voice and my supplications. 2Because he hath inclined his ear unto me, therefore will I call upon him as long as I live. 3The sorrows of death compassed me, and the pains of hell gat hold upon me: I found trouble and sorrow. 4Then called I upon the name of the LORD; O LORD, I beseech thee, deliver my soul. 5Gracious is the LORD, and righteous; yea, our God is merciful. 6The LORD preserveth the simple: I was brought low, and he helped me. 7Return unto thy rest, O my soul; for the LORD hath dealt bountifully with thee. 8For thou hast delivered my soul from death, mine eyes from tears, and my feet from falling. 9I will walk before the LORD in the land of the living. 10I believed, therefore have I spoken: I was greatly afflicted: 11I said in my haste, All men are liars. 12What shall I render unto the LORD for all his benefits toward me? 13I will take the cup of salvation, and call upon the name of the LORD. 14I will pay my vows unto the LORD now in the presence of all his people. 15Precious in the sight of the LORD is the death of his saints. 16O LORD, truly I am thy servant; I am thy servant, and the son of thine handmaid: thou hast loosed my bonds. 17I will offer to thee the sacrifice of thanksgiving, and will call upon the name of the LORD. 18I will pay my vows unto the LORD now in the presence of all his people, 19In the courts of the LORD's house, in the midst of thee, O Jerusalem. Praise ye the LORD. (KJV)
Sharing the Truth – What the Bible says about life (click on title)
McDONALDS WILL NEVER BE THE SAME
During the Christmas period I drove to Leeds to be with my family for the celebrations.
I had recently started an infection and given antibiotics for it.
On Boxing Day I set out home about 2pm hoping to be back before dark. Right from the onset the traffic was very heavy and after 30 miles on the M62 I began to feel very unwell and was shaking uncontrollably. As I was alone in the car I became rather anxious and at the same time the traffic slowed to 20 miles per hour. I at first thought of pulling over and calling emergency services but knew they were stretched to the limit so I continued. To my delight I saw a sign for a services stop 10 miles ahead so decided to persevere to that By now two lanes of the motorway were closed due to an accident up ahead so things were getting worse for me. I now realised that only one very special person was able to help and that is my Heavenly Father who never leaves us nor forsakes us so I called on Him in prayer to help me and give me the strength to get home.
At the sign for "services 1 mile ahead" there was an emergency notice ahead saying "motorway closed follow detour route" My heart sank but I continued to call on The Lord for His help.
We were diverted towards Rochdale a place I have never been and by now it was raining and very dark We crawled towards the town and by now I was getting desperate to stop. Suddenly in the pitch dark as I rounded a bend there in the sky was a bright letter M advertising a McDonalds restaurant near by. I followed the signs and finally was able to stop rest awhile and refresh myself.
What was to be a 2 hour journey turned into 5 before I reached home.
The very next day on the news was a picture of the road in Leeds down which I had travelled and the street in Rochdale both completely under water The Lords hand had been on me all the way and He knew that I needed to keep going. I pray when you read this you will consider trusting in The Lord who never lets us down.
NH